Among the premiere parks in the country, Sky Ranch is well known for its rides, food destinations and family-friendly ambiance. A project of SM Prime Holdings Inc, Sky Ranch Tagaytay is a 5-hectare leisure park right beside Taal Vista Hotel.
The entertainment complex and many dining establishments have made the park a welcome treat for those wishing to get away from the city even for just a day. With the offer of family fun and adventure, you can choose from their well selected amusement park rides and activities. Their rides include the Sky Eye which is deemed one of the tallest Ferris Wheels in the country at 63 meters high, Super Viking, Sky Cruiser, Zipline and many more. For a complete list of rides see below.
Their new rides include the BUMPER BOAT, BOAT PARADE, CHALLENGER, and CITY RAIL.
Sky Ranch also provides you with one of the best views of Taal Lake and Taal Volcano. Gazebos can be found around the park for a relaxing and comfortable vantage point. There are over a dozen dining establishments that will suit almost every palate from casual fast food to fine dining. Food establishments are open from 10am-10pm.
The Venue, an events place created by Sky Ranch for special occasions is 2,000sqm and perfect for any gathering. All the facilities and amenities you could possibly need such as parking, a breast feeding station, clinic, ATMs, souvenir shop, etc are available.

Sky Ranch Tagaytay is open on Mondays to Fridays from 10am-10pm and Saturdays, Sundays, and Holidays from 8am-10pm.
Admission Ticket (Special Promo until further notice)
Php 50.00 – Weekdays (Mondays to Fridays, 10 a.m. to 10 p.m.)
Php 80.00 –Saturday, Sunday and Holidays (8 a.m. to 10 p.m.)
Parking rates:
Bike – Php30.00
Car – Php50.00
Bus – Php150.00
Gazebo:
Gazebos are available for rent. Guests may order food from our restaurants and dine in one of our spacious Gazebos with the cool Tagaytay breeze and the majestic view of Taal Volcano. Below are the corresponding gazebo fees:
Php 750.00 – Weekdays (Mondays to Thursdays)
Php 1,000.00 – Friday, Saturday, Sunday and Holidays
Have a Wickedly Fun Halloween at Sky Ranch!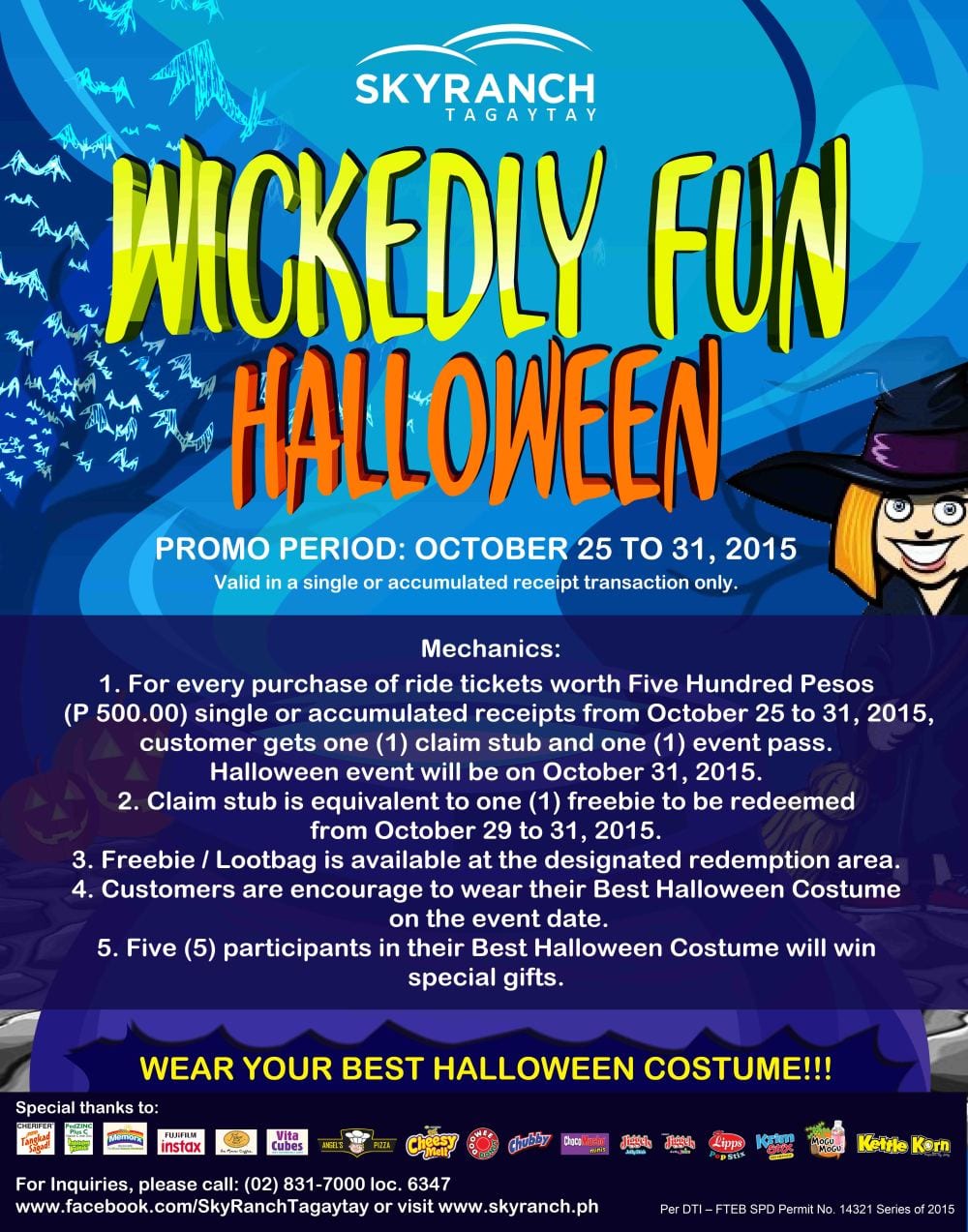 Halloween is one of the most anticipated events for families most especially kids who love to show their Halloween costumes and get freebies.
Expect lots of fun with games from dancing to a scavenger hunt and a mystery game! Five (5) participants in their best Halloween costume will be chosen to win special gifts!
• For every purchase of ride tickets worth Five Hundred Pesos (P 500.00) single or accumulated receipts from October 25 to 31, 2015, customer gets one (1) claim stub and one (1) event pass. Halloween event will be on October 31, 2015.
• Claim stub is equivalent to one (1) freebie (loot bag/merchandise item) to be redeemed from October 29 to 31, 2015.
• Customers are encouraged to wear their best Halloween costume.
Follow Sky Ranch Tagaytay on Facebook
List of Sky Ranch Rides:
Sky Eye – Php150.00
Sky Eye is 63 meters in height. Consisted of 32 air-conditioned gondolas that can accommodate 3-4 passengers per gondola, Sky Eye gives you a wonderful view of Tagaytay, its neighboring provinces, Taal Volcano and Lake for 10 minutes.
Guests Should Be
3 ft and above, 3 ft and below must be accompanied by a responsible adult
Age Interest
Kids, Tweens, Teens and Adults
Thrill Level
Small drops, Spinning
Super Viking – Php100.00
An open seated gondola which swings up to 90 degrees, back and forth. The ride can accommodate a total of 45 persons with 5 persons per row. This thrilling ride at the heart of Sky Ranch takes from 5-6 minutes.
Guests Should Be
4 ft and above
Age Interest
Tweens, Teens and Adults
Thrill Level
Big Drops, Thrill Ride
Carousel – Php 50.00
Get a 360-degree view of the whole Sky Ranch lot in an instant while riding in wooden horses and sleighs strategically located inside this spinning tent. Consisted of 4 sleighs and 24 horses, this carousel has two floors that could take you on a higher level of adventure.
Guests Should Be 3 ft and above, 3 ft and below must be accompanied by a responsible adult
Age Interest
Kids, Tweens, Teens and Adults
Thrill Level
Spinning
Sky Cruiser – Php100.00
A unique experience of seeing the wonderful view of Taal Lake and Volcano, Sky Cruiser gives its riders an exciting aerial ride where they can control their vehicle by pedaling it around the track. Each wagon can accommodate 2 riders at a time.
Guests Should Be 4ft and above
Age Interest
Tweens, Teens and Adults
Thrill Level
Spinning
Mini Viking – Php 50.00
Just like Super Viking, this Mini Viking gives guests a milder experience of being swayed up to 90 degrees. It can ride 10 to 12 guests per ride and each ride lasts for 3 minutes. This is an open seated gondola perfect for those who are not yet ready to take the much thrilling Super Viking
Guests Should Be
3 ft and above.
Guests below 3 ft must be accompanied by a responsible adult.
Age Interest
Tweens, Teens and Adults
Thrill Level
Big Drops, Thrill Ride
Express Train – Php 80.00
A relaxing and fun way to roam around Sky Ranch, this trackless Express Train goes around the area with 12-18 guests at a time. A perfect way to enjoy a fantasy land while enjoying the cool breeze of Tagaytay and the amazing train sound brought about by this ride. Sky Ranch has currently two sets of train for you to enjoy, the Thomas Train, which surely amazes kids and the Safari Train that is perfect for adventurous and thrill-seeking individuals.This ride may take 9 to 10 minutes per ride.Guests Should Be ft and above, 3 ft and below must be accompanied by a responsible adult Age Interest
Kids, Tweens, Teens and Adults
Thrill Level
Slow, Moving
You can have a family bonding now in Tagaytay