The sweetest surprises come in the most unexpected circumstances.
Doug Kramer—a player in the Philippine Basketball Association who is known as GlobalPort Batang Pier's power forward—revealed last January 31, 2016 his biggest surprise yet for his wife, Cheska Garcia-Kramer
Cheska is a known actress, social media icon and mother to Kendra, Scarlet and Gavin. The family is widely known in the country as 'Team Kramer.'
According to Ned Bandojo, Head of Marketing of Red Ribbon, Doug took his Valentine's Day surprise to Cheska to new romantic heights by proclaiming his love for his wife via a 40 by 60 ft billboard along C5 Bagong Ilog Bridge in Pasig City.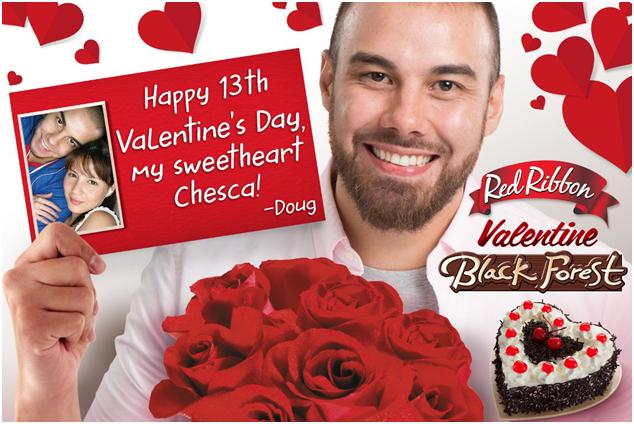 "Doug found a very unusual way of showing his love for Cheska, and it is something beyond imaginable," Bandojo said. "We, his Red Ribbon family, are really glad to be part of Doug's pre-Valentine's Day surprise to Cheska because this only shows how the brand complements Valentine's. We hope that, together with our Valentine's Black Forest cake, we were able to bring in more sweetness to their relationship and to the whole family as well."
Red Ribbon—one of the leading bakeshop chains in the Philippines—is set to launch on February 12,2016 its Valentine's Black Forest Cake, a limited edition heart-shaped variant that's made with rich chocolate, fluffy cream and juicy cherries.
"The Valentine's Black Forest Cake allows couples to rekindle their sweetest memories on Valentine's Day. If you want to surprise your loved one with something different just like what Doug did to Cheska, then Red Ribbon's limited edition offering is the right one for you," Bandojo said.
He concluded, "Surprises may come in different ways, forms and times, but it's always for the right reason—it's to show how much couples mean to each other."
You can also make your loved ones' Valentine's day sweeter with Red Ribbon Valentine Black Forest cake which will be available from 12 to February 14, 2016.
You can watch the full video here