THIS IS A SPONSORED POST, ALL OPINIONS ARE MINE
Online shopping is easy, convenient and super trendy nowadays. You can shop from the comfort of your own home, office and even in your car. With just the click of a button, you can browse through each category, shop and all you need to do is wait for the delivery.
There are lot of online shop and group sites now a days, name it and you will see something new. We just need to explore and see to it what we need. One of the trusted sites is Groupon, they have a lot of things to offer and guess what it's affordable.
WHAT IS GROUPON
Groupon (NASDAQ: GRPN) is building the daily habit in local commerce, offering a vast mobile and online marketplace where people discover and save on amazing things to do, see, eat and buy. By enabling real-time commerce across local businesses, travel destinations, consumer products and live events, shoppers can find the best a city has to offer. Groupon is redefining how small businesses attract and retain customers by providing them with customizable and scalable marketing tools and services to profitably grow their businesses.



Groupon offers a wide of variety products to choose from Beauty and Spas, Food and Drinks, Electronics, Travel, Health and Fitness.
I got curious in Health and Fitness on what they can offer, and I got thrilled they offer affordable package for a LASIK surgery.  I really need this one :-)You can save a lot from this deal. They also offer eye examination and prescription glasses.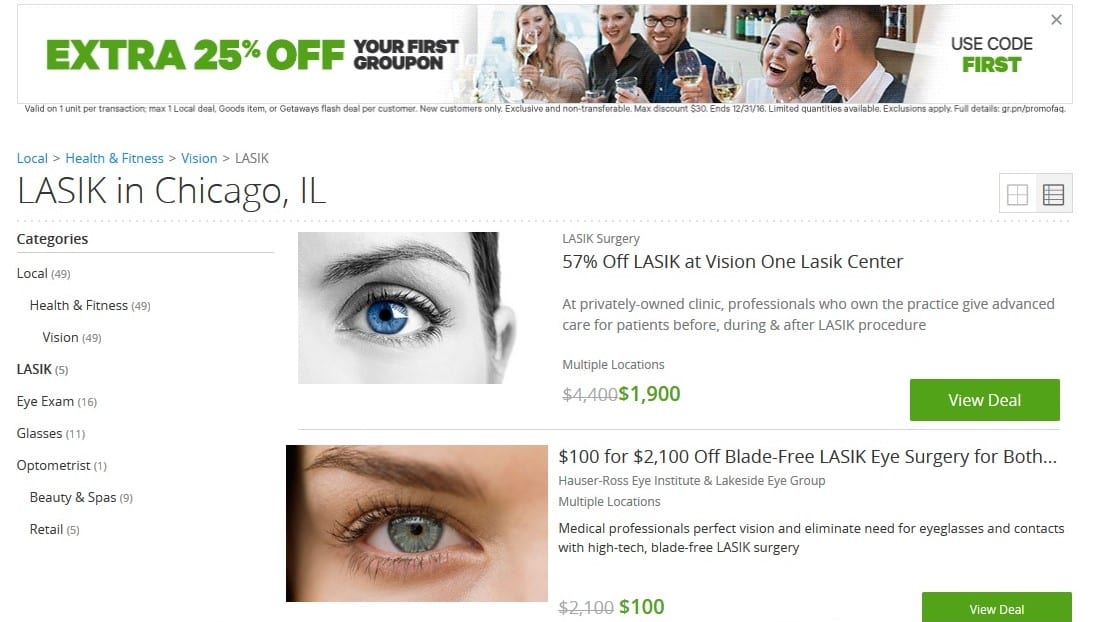 With Groupon you can save a lot of money and  time, in one click you can see all the deals and you can choose what product or services you need, and I must say they offer a great deal.
Plus there is not membership fee, just register and you are in for a great deal.
SIGN UP HERE
Follow Groupon here
Facebook Page
Twitter