Yesterday is our seventh year wedding anniversary 🙂  if you are asking me if seven years itch is real, my answer is YES (This is my own opinion and experience). Of course it's up to you as a couple to work on your differences.


This year is a big challenge for us a couple, we had a lot of trials, there are times that I want to give up and I keep on crying and praying and asking God if what is His plan for us.  Hubby also had a hard time in fixing things between us, because of our differences.  There is a time that I am asking him to leave us alone, I am asking him to leave the house even for a week. Our misunderstanding is not about THIRD PARTY it is more that we became self-centred individuals, we feel so comfortable that we are married couple but we forget that we are also friends, we become more focus with our Little Kulit, we forget that we are partners. I focused on being a good mom and I am not aware that I took for granted my husband. Hubby becomes dependent with his game in his phone to ease his boredom. It's too late for us to realize that our relationship is on the rock. And this time GOD entered in our lives and He remind us that

Ephesians 5:22-33New International Version (NIV)
22 Wives, submit yourselves to your own husbands as you do to the Lord. 23 For the husband is the head of the wife as Christ is the head of the church, his body, of which he is the Savior. 24 Now as the church submits to Christ, so also wives should submit to their husbands in everything.
25 Husbands, love your wives, just as Christ loved the church and gave himself up for her 26 to make her holy, cleansing[a] her by the washing with water through the word, 27 and to present her to himself as a radiant church, without stain or wrinkle or any other blemish, but holy and blameless. 28 In this same way, husbands ought to love their wives as their own bodies. He who loves his wife loves himself. 29 After all, no one ever hated their own body, but they feed and care for their body, just as Christ does the church— 30 for we are members of his body. 31 "For this reason a man will leave his father and mother and be united to his wife, and the two will become one flesh."[b] 32 This is a profound mystery—but I am talking about Christ and the church. 33 However, each one of you also must love his wife as he loves himself, and the wife must respect her husband.
What I have learned in our seven years as a married couple, aside from Loving each other?
LEARNINGS
COMMUNICATE- communication is the KEY in every relationship, we must keep our communication line open, as much as possible pagusapan ng maaga if you can feel or see that there is something wrong, Of course not all the time kaya matapos In one day but please as much as possible hindi aabot ng one week, because mas lala ang problem.
LISTEN &NO NAG- listen to one another, isa isa lang magsasalita, so yung isa makikinig. Yes I have to admit that I am not a LISTENER and I am a NAGGER. But after what happened to us I realized I need to learn how to listen and stop nagging. And I am proud to say kaya ko pala yun.
LEARN TO COMPROMISE- there is no such thing COMPATIBLE, at first yes you think that you are compatible but when you get married, true ang sabi nila "madami ka malalaman sa asawa mo pag kasal na kayo" it's either positive or negative and it's up to you guys how to work on it. And I must say COMPROMISE things are the answer. Meet halfway and stop making RULES, lahat nadadaan sa usapan and bigayan. Give and share lang yan.
MAKE TIME TO ONE ANOTHER- Married couple needs to have a time together, have to admit this year lang naming uli nagawa. And yes it makes our relationship stronger now, because we can talk without chasing and minding our Little Kulit, it also helps us to build TRUST to one anorher, besides sarap din mag reminisce ng past.
WIVES SUBMIT TO YOUR HUSBAND- It took me seven years to realize this one, kailangan pa naming dumaan sa mabigat na trials to realize what is the meaning of this one, and now I am proud to say that I fully submit my life with my husband, I become more understanding with him and now I let him speak and I let him decide in some things. I let him feel that he is the MAN in our relationship.
HUSBANDS NEED TO LOVE YOU WIVES- Of course husbands you need to love your wives because we are the light in our family and learn to appreciate and thanks us in all our efforts in building our family.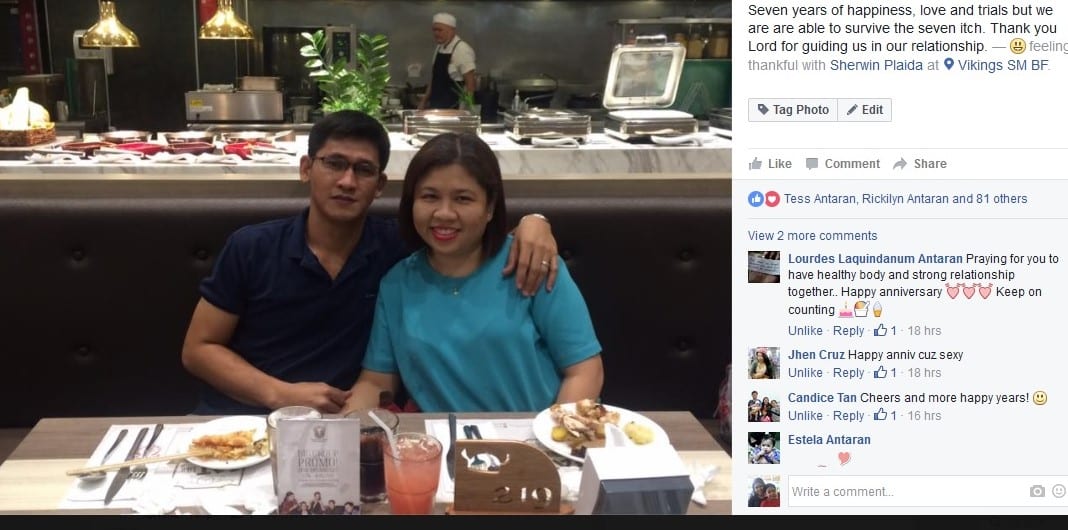 This is based in my own experience, that is why I believe in seven years itch but I am glad and I thanked God that we are able to survive and make things better. It took us months to realize the true meaning of MARRIAGE. Being married took a lot of HARD WORK, it is not all about LOVE, because there will be a time na nawawala LOVE but as a couple we must know how to balance it and we must keep the FRIENDSHIP, COMMUNICATION and TRUST to one another and of course PRAYER is always the answer, nothing is impossible with God.
Happy seventh year to us and we are looking forward for more anniversaries 🙂