Being a mom my top priority is the hygiene of my family and the cleanliness in our household. I always remind my son to wash his hand before he eats and make it sure that all his toys are clean before he can play with it. In my household I provide them with the best product that can help us to maintain the cleanliness in our home.
I grew up with the Sanicare products, and now I am using it with my own family. I really love the Sanicare it's not just for a personal hygiene, they also have for kitchen use.
I am glad that I was invited in a Sanicare Hygiene Care Circle event at the Makati Diamond Residences, it was a fun learning experience. We learned mommy hacks from the top mommy bloggers Frances Sales of Topaz Horizom, Sarah Tirona of Fashion Eggplant and Shari Macainag of the Misty Mom. It was also my first time to see the full range of Sanicare products from the kitchen and bathroom hygiene lines and the Baby lines.


We roamed around in three stations, my first stop is in the Beauty and Bathroom lines, Shari Macainag a popular beauty blogger shared some tips and hacks how to clean make up brushes, how to maintain the cleanliness in our bathroom and my favourite part is how to lessen our frizz hair, we can use an interfolded hand towel we can damp in the ends of our hair, and guess what I am trying it now and it works thanks Shari for this wonderful tip it really helps a lot.




My next stop is the Personal Hygiene and baby lines, Sarah Tirona shared tips and hacks on how to pack baby clothes when travelling and she introduced the latest baby lines from Sanicare such as Sanicare Jumbo Cotton Balls, Sanicare Baby Underpads, Sanicare Baby Wipes and Sanicare Ear Buds. And what I really love is the Sanicare Toilet Seat Cover which is perfect for travelling, I really like this one since I am so meticulous when it comes to comfort rooms.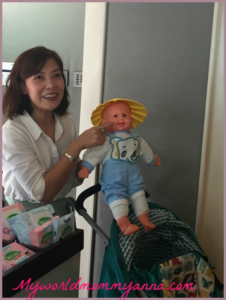 My last stop is the Kitchen Hygiene Line, Frances Sales shared a lot of tips and hacks for kitchen, I really learned a lot, especially using a Sanicare Jumbo towel if you want to microwave your left over pizza and sandwich na hindi siya titigas you just need to wrap it around. And also she taught us to wrap a tissue around the bottle of cooking oil to catch the excess oil.


The highlight of the event is a big first for Sanicare, their first ever Brand Ambassador, host and mom, Bianca Gonzales-Intal , she was introduced by Stephanie Zubiri-Crespi, they both shared their experience using Sanicare products at home.


According to Sanicare Marketing Director Ms Lea Sio Pacis, Bianca is the perfect choice to represent the brand and not just because she has been a long time Sanicare user. "Bianca represents the moms of today. She is independent and hardworking but her priority is always caring for her husband and baby".

She expressed her excitement at being chosen as the first Sanicare brand ambassador. As a new mom, she has heightened appreciation for keeping a hygienic environment for her little one. While being familiar with most of the brand's offerings, she is also thrilled to discover the new, innovative products from different Sanicare lines.
I would like to share with you lovely mommies the complete list of Sanicare products, they have product lines especially for babies  🙂
PERSONAL HYGIENE LINE
Sanicare Facial Tissue (Boxed and Travel Packs)
Sanicare Cleansing Wipes (80s and 15s)
Sanicare Cotton (150s)
BATHROOM HYGIENE LINE
Sanicare Ecolayer Bathroom Tissue
Sanicare Interfolded Hand Towel
Sanicare Disposable Toilet Seat Cover
Sanicare Handipack
KITCHEN HYGIENE LINE
Sanicare Kitchen Towels
Sanicare Lunch Napkins
Sanicare Mood Dinners Napkins- available in white and black
BABY CARE
Sanicare Baby Underpads
Sanicare Baby Wipes 80s and 15s
Sanicare Jumbo Cotton Balls
Sanicare Cotton Buds