Last July 28 to 30, Oishi Snacktacular was held at Festival Mall Alabang, it's time for us South people to enjoy this event 🙂
We had a privilege to be the first one to try all the activities, before they open to the public. Since classes is suspended I tag along my little kulit.


Entrance fee is free of charge, passport is given to be able to participate in the activity booth


Our first stop is the OISHI SNACK SHACK BOOTH
This activity cost Php 295.00 wherein we need to fill our bag within 60 seconds, we should be able to close the bag properly because the staff will remove the excess.



Our Second stop is the OISHI'S O-Twirl New Flavors
We are asked to choose between Oishi Choco Chug and Oishi Tea Matchi Matcha Milk which will be served as an ice cream with a choice of two snack toppings. This activity cost Php 20.00


Our Third Stop is OSIHI MAKE YOUR OWN SNACK
We are asked to make our own snack here for only Php 20.00 we can choose any of two snacks and maximum of two dips. This a super great deal nakakabusog


Our Fourth stop is OISHI SNACK CATCHER
Wah at first I was hesitant to try this one, this is not my forte but my son is keep on asking me to try it so he can see me fly daw, OMG sa ngalan nga anak ko ginawa ko na din, this activity cost Php 200.00, After scary moments I just got 18 snacks not bad for the first timer J. How I wish his dad is with us this time.


Last stop is Cuckoo Blaster Team Up
This booth cost Php 120.00 per head you need to have a partner for this activity, we are asked to catch a ball, the total balls we got is equivalent to the number of bottled drinks we can get. I got only one ball here mas madami pa nakuha sa akin si Kulit he got 8 balls.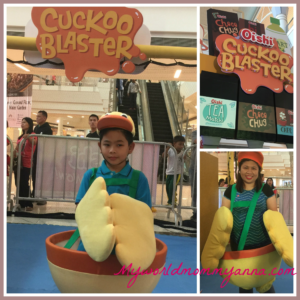 We are able to finish all activities and we post one picture in our social media we are entitled for one souvenir shirt.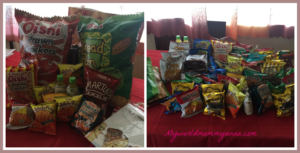 Overall we had a great time for this activity, it's a great family bonding plus you can meet some celebrities during your visit like Alex Gonzaga, Maine Mendoza, Kathryn Bernardo and Daniel Padilla.