My long weekend starts as early as Thursday (August 31) I took a leave from my work to watch Little Kulit presentation for Buwan ng Wika, I supposed to take a half day off lang but my boss said to take a whole day na lang,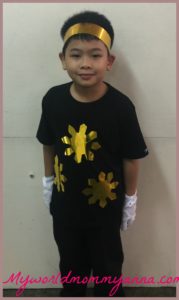 After his program, I went to salon for my overdue Brazilian treatment, habang nasa salon I am busy talking to different party suppliers for a quotation, ganyan ang buhay ng isang nanay multitasking 🙂 and then I got his gift registry card.


Friday (September 1) we went to SM MOA for Philippine Travel expo and to add some items for his gift registry. Ubos oras sa travel expo for airfare inquiry it's not on sale compare sa local hotel na offer so we grab the Ilocos tour for our Christmas vacation.
Saturday (September 2) is our errand day but hubby needs to work so I ended up cleaning our room by myself. I'm on the middle of my duties when suddenly I received call that I need to be online so I worked from 10:30 am 2:45 pm.
Sunday (September 3) after church service, we visited one more venue for little kulit birthday party and then went straight ahead to Sm Southmall to finish his gift registry and to buy some stuffs. After 4 hours natapos na din naming lahat.


Now I have to finalize everything, kaya ito ng one month planning while busy at work.