We don't throw party every year for our Little Kulit, we just had baptismal and first birthday party for him. Last year our original plan is to travel but most of our relatives and friends are expecting that we are going to have a party since he is turning seven years old. After all the deliberations 🙂  I just have only a month to do it all. One of the things that I must to do is have him registered at SM Gift Registry.

What is SM Gift Registry
This is a free service from SM Supermalls offered to all customers who wants to have their name registered at gift registry. This is open for all occasions such as Birthday, Baptism, Wedding and etc. It allows the celebrant to choose what he likes.
How to Register
 
1.       Proceed to the Gift Registry at any SM Supermalls.
2.       Fill up the form
3.       Once you have fill up the form, you may proceed to choose the items that you want from your wish list. In our experience we went to three branches to complete our list.
4.       All items selected will bring back to the gift registry, SM personnel will take a picture and will uploaded to the system. Updated gift list will be available within 24 hours.
5.       SM will give you a gift registry card that you can give it to your guest for their reference and discount.
6.       You can track your wish list through online

Benefits
1.       There will be a 10% discounts for all your guest if they use the gift registry card
2.       Celebrant will earn points in his SM advantage card if items purchased from his wish list.
3.       Customized gift wrap offered exclusively from the SM Gift Registry
4.       Your guests can relax at the SM Gift Registry and choose the item at the wish list. SM personnel will be the one to get the item and have it wrapped for you.
5.       Celebrant will receive a discount card for personal use.

Our Experienc
Since we just have a limited time, SM supermalls is kind enough to accommodate us even in a short span of time. Our main branch is at SM Sucat but we were able to add some items for his wish list at SM MOA and SM Southmall.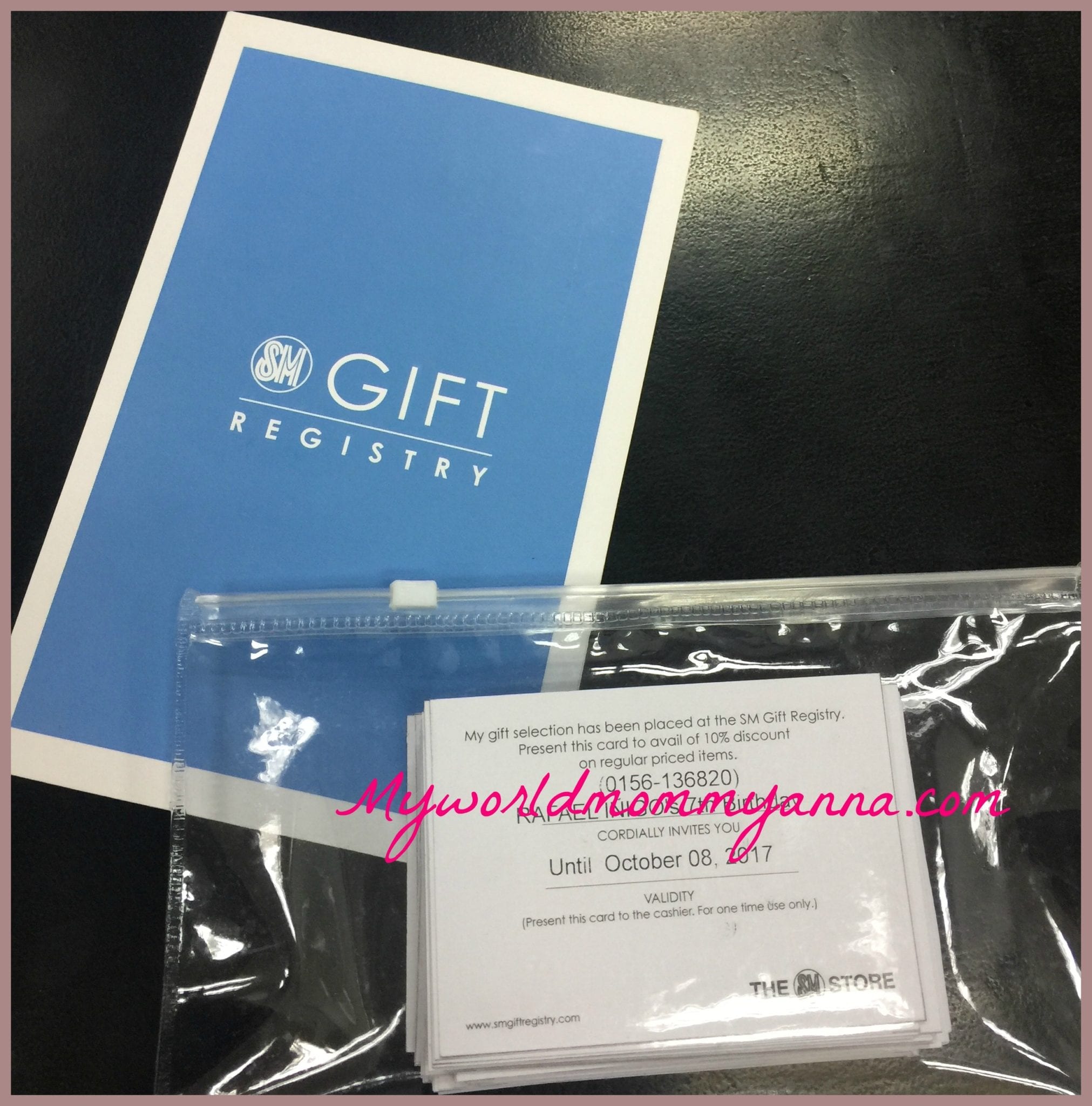 Sales personnel were all accommodating while he is choosing for his wish list. Dahil siya ay bata toys ang unang pinuntahan. But we remind him not to choose the expensive one because it is not practical and hindi ko din papagamit 🙂

aminin mga mommies totoo diba.
From his wish list he choose toys, clothes, shoes, bag and bike. And we are so glad karamihan sa wish list nya he received it. If you are asking me if SM Gift registry is practical and helpful the answer is a big YES. It take two to tango for the celebrant and guest.

 You can see in his face the excitement and happiness. We are so thankful to all our guest who came all the way kahit super ulan, and sharing your blessings with my son.