Mondelēz International partners with Basic Environmental Systems and Technologies
(BEST) to collect waste in Metro Manila
Bring your waste at select collection sites for points and treats
The journey of waste from your home can sometimes be a treacherous one. Ideally, waste from your home is brought to a Materials Recovery Facilities (MRF) where they are segregated according to type and diverted accordingly. However, according to Department of Environment and Natural Resources, in the Philippines only 35% of barangays have established and operational MRFs. This scenario can lead to waste being dumped illegally or even ending up in the oceans. Thankfully there is something we can all do to provide the best case scenario for waste.
Just go to any of the 11 BEST waste drop off sites in Metro Manila from April to June 2022. You can view the list here.
Bring the dry waste from your home like plastic, paper, metal and others. Make sure they are dry, clean, and free from food or other materials.
For any type of waste brought in, you can earn environmental points. These points can be used to redeem select Mondelēz International snack products as well as other items and prizes from BEST.
This program will run for three months so you have plenty of time to collect waste at home and bring them to the sites. And you can do it regularly too as BEST runs their waste collection activities all year long! For a list of all accepted materials at BEST sites, click here. You can also redeem different prizes for your points, check out this list.
Mondelēz International is the maker of beloved snack products like Tang, Eden Cheese, Cheez Whiz, Oreo, Toblerone and Cadbury. The Company aims to empower people to snack right, with the right snack, for the right moment, and with snacks made the right way. "We believe in sustainable snacking, where we are able to produce our delicious products while lessening our environmental footprint, including the impact of waste," shares Atty. Joseph Fabul, Country Manager for Corporate and Government Affairs of Mondelēz International in the Philippines. "We know that any waste, when not properly collected and diverted can end up in nature, particularly the oceans. That's why we're working with organizations like BEST to help support and strengthen waste collection efforts in the country."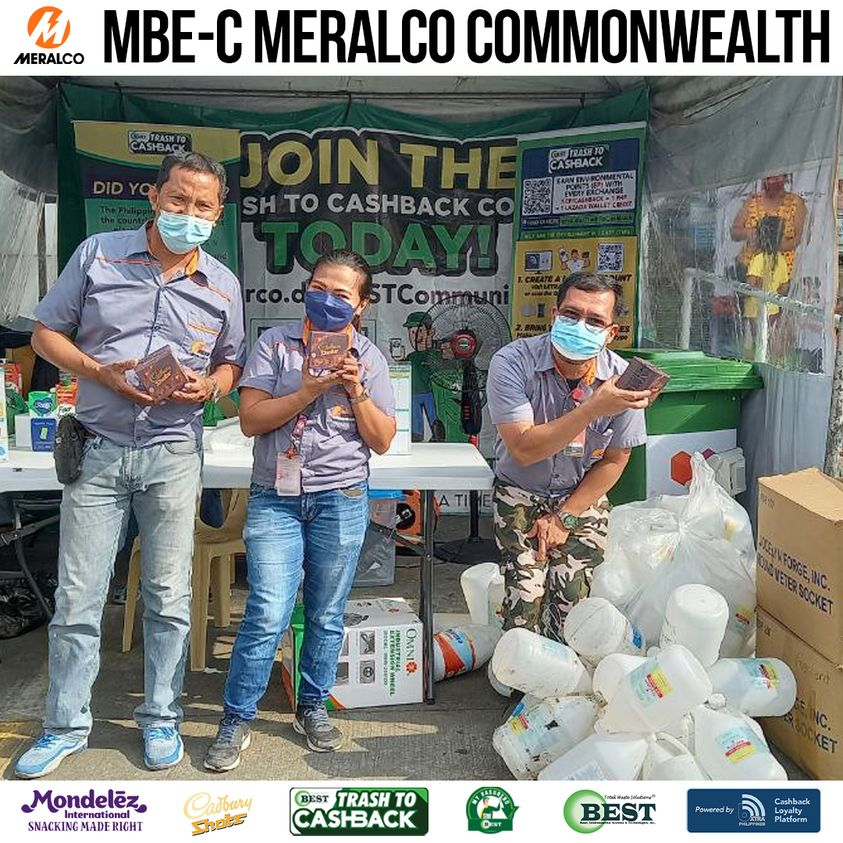 At the end of 2021, Mondelēz International and BEST partnered for a similar initiative where people received boxes of Cadbury Shots chocolate for the wastes they brought to collection sites. This resulted in the collection of 12,893 kilos of plastic waste alone, and the distribution of 10,800 boxes of Cadbury Shots chocolates.
BEST is engaged in contracting and consulting for waste management related businesses. Its primary mission is to provide avenues for comprehensive waste disposal systems, public cleansing, general hygiene and materials recovery that promote sustainable development through proper solid waste disposal and resource conservation.
"We thank Mondelēz International for their continued support to our waste collection initiatives," ends Jan Vincent Mercado, Senior Vice President for Business Development of BEST. "The challenge of collecting waste is a big one, and we encourage everyone to do their part in ensuring we do not harm the environment. At home we encourage everyone to segregate their dry and wet waste. For your dry waste, bring them to our drop off sites and we can help you to properly divert them so they do not end up in landfills or the oceans. You not only help the environment, but you also receive rewards for the enormous good you are doing the earth."