If you don't have social media or maybe don't watch reality shows, maybe you don't know what waist trainers are. It is an undergarment with hard metal boning and made of thick fabric. It is also typically worn around the body's midsection, and it gets cinched up to your body with either hook, Velcro, or a lacing system. It should be worn much tighter and shaping underwear or a girdle and will give you a smaller and sleeker waist.
As well as shapewear, there are different types of waist trainers. Some will not only target your mid-section but also some other parts of your body like arms and legs and even the chest area. Also, there are some that you can wear specifically for your workouts but also there are some that can be used daily.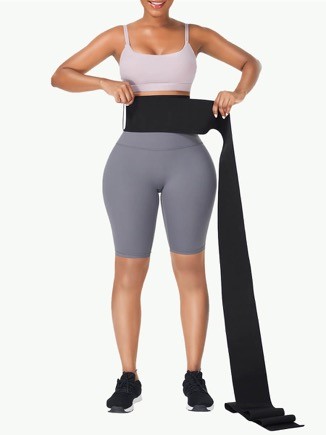 It is recommended that you start wearing them for a few hours, when you are starting your waist training journey, and then slowly increase the hours you wear them as the weeks go by.
One of the types of waist trainers there are and that is trending at the moment are vest waist trainers. And I'm sure you are probably wondering what's the benefit of waist trainer vest. Probably, is that they will give you a better hold on your body. This Neoprene Double Belts Waist Trainer Vest has 9 steel bones that will cinch your waist very strong. It also has a powerful sticker that will make it stick firmly to your body and it won't be easy for it to tear off. Its U-neck design will support your bust and lift it and your back too. Also made with neoprene material fabric that is soft and elastic. And most importantly its double waist belt design will give enhancing to the binding so you can freely adjust it
Another trend that will be your best friend if you love exercising, is these Workout Leggings with Waist Trainer. With this, you just won't have to imagine wearing comfortable legging that isn't only slimming but that will train your waist, lift your butt and control your tummy, it is a reality now. Its built-in corset, which is also adjustable by the way, will slim down your tummy, no matter if you wear it for yoga, a casual day, or at the gym, they won't stop doing their job.
It has PU-coated linen with neoprene, which will be promoting heat circulation and you can match it with either casual or activewear clothing. Its M M-shape design above the butt area fits its curves and will create a peach form easily. Also, the double waistbands will sculpt and control the tummy area and create an hourglass figure instantly. And the best thing is that it has a pocket on the leg side so you can put your items there.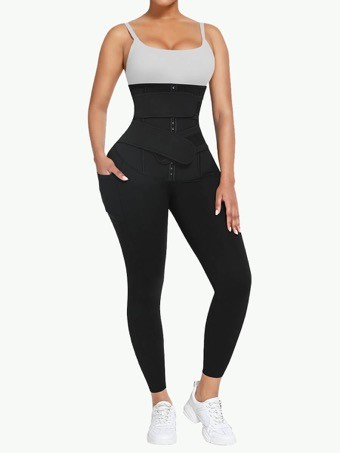 Another item in the trend is this Double Belts Zipper Waist Cincher. You can attach another layer of the belt so you don't only get a firmer waist control, but get a slimmer tummy and a flattened stomach. Also has Velcro straps that will give an easier adjustment and of course, a secure closure. This way you know the belt is tightly fastened around your abs.
It is made out of neoprene, which will help raise your body temperature faster, and features 6 steel bones and one plastic one too. Also has a color contrast design that will accentuate your silhouette. Has a zipper closure and a g-hook on the zipper top to prevent it from sliding down. For better and easier adjustment, it has a loop and hook fastener with wide loops. Its removable waist belt will give you two wearing options, letting you use the waist belt and waist trainer either together or individually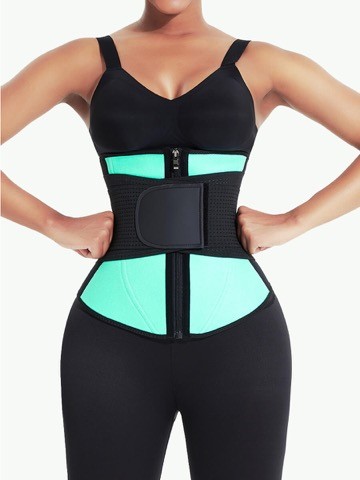 And finally, we have the waist trainer shorts. These High Waisted Tummy Control Sauna Pants. These 2-1 sauna pant has a nice built-in slimming belt that will help with waist training and the best thing is that you can wear them anytime you want, either for sport, fitness, or leisure time. It is made of neoprene and polyurethane materials that will increase fat burning. The legs of the shorts also have breathable fabric that is comfortable and moisture-wicking. The butt area has an M-shape seam that will fit your butt and provide a secure fit. Its adjustable clasp closure with hook-eye will let you adjust the tightness to your own needs. You can wear it daily wither for yoga, running or at the gym.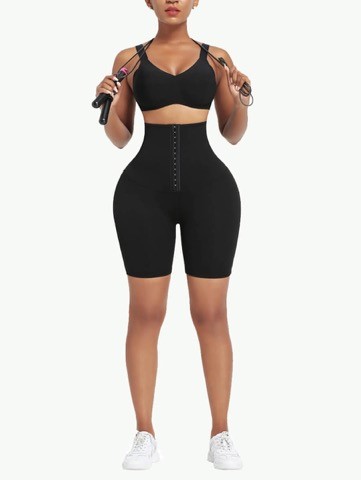 .